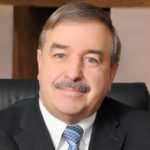 Dr. Douglas Arnold
Executive Director
Welcome to the National Association of Pupil Services website!
NAPSA has been serving its members since 1965 and, over the years, there have been a myriad of challenges and a tremendous increase in responsibilities for pupil services directors. Truly, there is never a dull moment in a very challenging, yet rewarding, field.
NAPSA's mission is "to advocate for a superior system of education by influencing public policy, legislation, and regulations through scholarly practice, exemplary professional development programs, and support services promoting ethical standards of practice for the profession." In fact, the importance of advocating for the effective delivery of pupil services on national, state, and local levels cannot be overstated. Joining NAPSA helps to make sure our collective voices are heard in Washington, DC and across the country. NAPSA's partnership with the National Alliance of Specialized Instructional Support Personnel (NASISP), as well as with other influential educational organizations, provides important means in helping to ensure that the effective delivery of pupil services remains at the forefront of the national discussion when it comes to educating America's youth.
In addition, order to meet NAPSA's vision "to provide excellent programs and services essential for student success," our organization provides its members with mass electronic communiqués that include two monthly publications titled NAPSA TIDBITS and the NAPSA Update, which focus on current happenings in pupil services across the country; best practices in the field; important legislation; and timely updates regarding salient issues in our organization and those affecting the delivery of pupil services. Our quarterly newsletter, the NAPSA NEWS, provides articles of topics germane to the effective delivery of pupil services, columns on topics of interest in the field, information and resources from our sponsors and partners, and other important information. All publications provides information on webinars, white papers and other resources and professional development opportunities — most of them free — for access by our members.
NAPSA also provides its members with an opportunity to attend its highly-acclaimed national conference each October. Members receive a significant discount on their registration fee. Conference attendance can be either in person or via virtual means. Be on the lookout for conference information in the beginning of July.
Also, as a benefit to its eligible members, NAPSA provides a $1 million professional liability insurance plan. In the event a member is faced with a lawsuit arising from his/her profession, the NAPSA professional liability plan will pay all the defense costs and, if necessary, provide up to $1 million for a judgment or settlement. The policy protects members against a broad range of exposures, such as injury to students under their supervision, failure to educate, violation of student rights, and improper placement of students. Additionally, the plan will reimburse legal fees incurred in due-process job protection matters. Members may receive up to $500 for consultation with an attorney of their choice; up to $750 for attorney's services resulting from a request for a formal hearing; and up to $4,000, subject to $100 deductible, if the member decides to sue because of a job action and the judgment is in the member's favor.
As another benefit, NAPSA members can purchase professional liability insurance, life and health insurance, car insurance, and long term care insurance at a discounted rate through Forrest T. Jones and Company, Inc.
NAPSA is committed to working collaboratively with is members to help them to meet new challenges and ensure their needs are met. Please feel free to communicate with us by sharing your needs and your successes. You are also encouraged to become active in the association by joining our board of trustees, volunteering to serve on committees, supplying us with noteworthy articles and materials pertinent to our field, or providing constructive feedback on how we can improve our services. Together we can effectively meet the challenges we face in our profession while making a positive difference in the lives of those we serve!