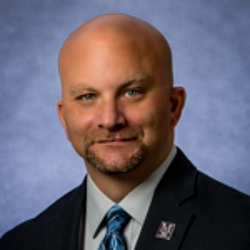 Employer: Mechanicsburg School District
Title: Director of Organizational Development, Student Services Coordinator
What is the most rewarding aspect of your work?
A job in the student services arena is on where no day is routine and in order to achieve success, one must work as a member of a collaborative team. I am truly blessed to work in an organization like the Mechanicsburg Area School District, where the pulse of the community has a harmonic beat focused on meeting the needs of our children. The Board, administrative team, faculty, parents, students, and community organizations all take an important role in balancing the system designed to support the school program. Some may feel this is descriptive of Utopian society; however, we have our share of "problems" as well. Every organization has hardship, unmet needs, and stories that keep you awake at night. The difference is perspective.
Student Services administration provides opportunity of accepting these issues as challenges to overcome; rather than items to fear or avoid. We have the opportunity to be agents of change. Rita Pierson said it best; "Every child deserves a champion, an adult who will never give up on them, who understands the power of connection and insists that they become the best they can possibly be." A job in the field of Student Services is hard, but can also be fulfilling. The ability to forge relationships serve as the most rewarding aspect of my work, which is so much more than a "job". I credit my mother for this perspective. She taught me to find a career where you love what you do, so you never have to work a day in your life.
What is the greatest benefit of being a NAPSA member?
A NAPSA membership provides opportunities for ongoing professional learning, legal updates, and a fluid network to others working in the many areas of student services. Student Services Administration is a post that varies from state to state, and from district to district within each state. Our district collaborates within a consortium of six local districts where each district has a different approach to the oversight of student service programs. Information received from a NAPSA membership assists in guiding practice toward the possible integration of programs between districts.
The annual conference provides opportunity for authentic connections to others who share a passion for student services. Relevant topics in combination with engaging presenters equate to a conference that should be at the top of every Student Service Administrator's conference list.